Mallee scholarship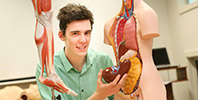 Thinking of studying medicine? Would $8,000 each year help?
The Mallee Division of General Practice scholarship aims to encourage students from the Mallee region to pursue a career in medicine. It's awarded to the Year 12 student with the highest academic achievement. But it also takes into account financial or other forms of disadvantage.
Check out the details on the Monash scholarships page.

Introducing Mildura
Mildura is a city of approximately 32,000 people. It is situated in north-west Victoria, approximately 550 km from Melbourne and 450 km from Adelaide.
Monash Rural Health was established in Mildura in 2003 and has earned an excellent reputation for providing hands-on clinical experiences to medical students, as well as good student outcomes in terms of assessment. We also support nursing and allied health students on clinical placements in Mildura.
Monash Rural Health Mildura is located adjacent to Mildura Base Hospital, allowing easy access to clinical placements for students. The hospital itself has over 145 beds, with over 23,000 admissions per annum and 29,000 presentations to the Emergency Department per annum. It provides a wide range of specialty services including:
General Medicine
General Surgery
Orthopaedics
ENT
O and G
Paediatrics
Mental Health
Chemotherapy

Dialysis
Vascular Surgery
Urology
Cardiology
Geriatrics
Intensive Care
Anaesthetics
Radiology
Allied Health
Mildura Base Hospital is a training site for interns and registrars, and runs a comprehensive program for these doctors. Medical students are encouraged to participate in these sessions which include weekly teaching in radiology, ECG interpretation, intern issues and discipline-specific meetings.
Information detailing specific learning opportunities can be found on the relevant year level page.
The town
Numerous restaurants, bars and nightclubs
Shopping – almost 400 specialty stores across the district
Fitness and leisure – concessional rates at local gyms for medical students
Art & culture – galleries, arts centre and programs of drama, music and comedy
Aquatic activities – fishing, water skiing, kayaking
More detailed information can be found on the Getting Involved and Social Life pages
Getting here
Getting to Mildura is easy: board a plane (on one of six daily flights offered), a bus or drive yourself. (See the Getting to Mildura page.)
Events staged by Monash Rural Health Mildura
click on the event for more information