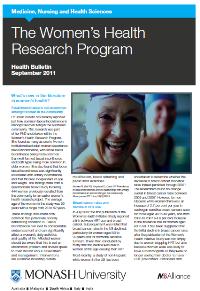 Health Bulletins
If you would like to receive this free bulletin by either email or mail, please contact the Women's Health Research Program on 03 9903 0827 or by email: womens.health@monash.edu and leave your details.
2017
- Jan-Feb: Do herbal products have risks for the Australian community?
- March-April: Does Vitamin D and Calcium lower cancer risk in older women?
- May-June: Key points from 2 presentations at the Asia Pacific Menopause
Federation meeting Singapore 2017
2016
December: Menopause Accelerates Biological Ageing
November : There is increasing interest in chemicals called "endocrine disrupting chemicals".
September / October: Contraception and Sexual Function. Is there a link?
July / August: Menopausal hormone therapy (often called HRT) still scares women while the experts try to dispel fears
May / June: Menopause symptoms are associated with poor self-assesed work ability
March / April: Sensitive issues for women after breast cancer
January / February: Menopause and memory - is there a connection?
2015
2014
December: Moderate-severe vasomotor and sexual symptoms remain problematic for 60-65 year old women

October/November: Women's expectations and experiences of hormone treatement for sexual dysfunction
August/September: Obesity is associated with a poorer prognosis in women with hormone receptor positive breast cancer
July: A practitioners toolkit for managing the menopause
June: Findings from the study of metformin for the mangement of insulin resistance in overweight women at midlfe
April/May: Antidepressants and bone health; Dense breasts what tests should be done?; Endurance exercise after menopause and cardiovascular health
March: Fat Nation: why are so many Australians are obese and how to fix it
February: Upadate from the Bupa Health Foundation Health and Wellbeing after Breast Cancer Study
January: Fracking (fraccing).... a new way to find natural gas or a serious health concern going under the radar?
2013
December: Investigating the

P

revention of

E

ndometrial

CA

ncer with

M

etformin [PECAM Study]
November: Transdermal testosterone therapy improves selective serotonin reuptake inhibitor-associated sexual dysfunction in women
October: Will all that walking increase my bone density?
September: Achieving targeted assessment of osteoporosis in women at midlife
August: Pregnancy and breast cancer
July: Osteoporosis
June: New research presented at the Endocrine Society Annual Meeting 2013
May: Do hormone levels influence cholesterol after menopause?
April: Improving the health and wellbeing of women after breast cancer
March: Breaking news regarding the care of women at menopuase
February : Whats new on the supplement front, an update and, predicting menopause
January: Menopause, we assume everyone knows about it, but what is it and how are women affected
2012
December: The ATLAS study: Adjuvant Tamoxifen - Longer Against Shorter
November: Menopause and weight gain
October: Talking Sex
September: Breast reconstruction following mastectomy in Australia
August: An Olympic Issue
July: Can calcium supplements cause heart disease?
June: Colorectal / Bowel Cancer in Women
May: Update on vitamins A, C and E

April: What is insulin resistance and pre-diabetes?
March: Bone health, osteoporosis and osteopenia
February: Depression and the menopause
January: Compounded medicine, consumers beware
2011
December: Testosterone improves verbal learning and memory in postmenopausal women: results from a pilot study.
November: Testosterone in women.

October: Screening for ovarian cancer - An update.

September: Fecal incontinence is not uncommon amongst women in the community.

August: Screeing for ovarian cancer - An update.

July: Taking control of your weight.

June: Antidepressant therapy and sexual function.

May: When to take cholesterol-lowering medication.
April: Screening for ovarian cancer.
March: Breast cancer rates have gone back to being the same as before women stopped taking HRT.