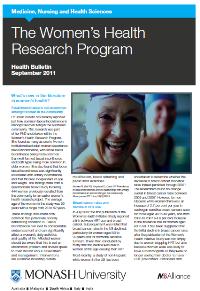 Health Bulletins
If you would like to receive this free bulletin by either email or mail, please contact the Women's Health Research Program on 03 9903 0827 or by email: womens.health@monash.edu and leave your details.
2013
2012
December: The ATLAS study: Adjuvant Tamoxifen - Longer Against Shorter
November: Menopause and weight gain
October: Talking Sex
September: Breast reconstruction following mastectomy in Australia
August: An Olympic Issue
July: Can calcium supplements cause heart disease?
June: Colorectal / Bowel Cancer in Women
May: Update on vitamins A, C and E

April: What is insulin resistance and pre-diabetes?
March: Bone health, osteoporosis and osteopenia
February: Depression and the menopause
January: Compounded medicine, consumers beware
2011
December: Testosterone improves verbal learning and memory in postmenopausal women: results from a pilot study.
November: Testosterone in women.

October: Screening for ovarian cancer - An update.

September: Fecal incontinence is not uncommon amongst women in the community.

August: Screeing for ovarian cancer - An update.

July: Taking control of your weight.

June: Antidepressant therapy and sexual function.

May: When to take cholesterol-lowering medication.
April: Screening for ovarian cancer.
March: Breast cancer rates have gone back to being the same as before women stopped taking HRT.