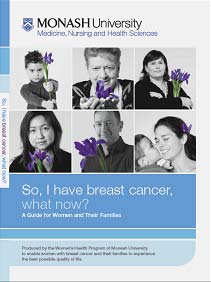 So I have breast cancer, what now?
So, I have breast cancer, what now? is Australia's first comprehensive guide for women with breast cancer and their families.
The two 90 Minute DVDs feature interviews with Australia's leading physicians, counsellors and specialists as well as candid accounts from women who have been diagnosed with breast cancer.
Breast cancer accounts for approximately 32 per cent of all newly diagnosed cancers in women. After diagnosis women and those close to them, are confronted by a vast number of new issues.
Not everyone has immediate access to support networks to sustain them through their treatment period and beyond.
The DVD "So, I have breast cancer, what now?" was produced by the Women's Health Program, in the Faculty of Medicine, Nursing and Health Sciences at Monash University.
The Women's Health Program, directed by Professor Susan Davis, aims to enable Australian women to experience the best possible quality of life through research, critical evaluation of available information and professional and community education.
The DVD is a novel, comprehensive and accessible resource for Australian women diagnosed with breast cancer, their partners, families and others close to them. It provides information for women of all ages.
Contributions have been made by a number of health professionals involved in the care of women with breast cancer, breast cancer survivors, their partners and children. The personal stories of those who have been affected by breast cancer are shared in a way that will give support to all women travelling the path of treatment for this common condition.
The DVD format is user friendly. Information provided by health care professionals is interspersed with the shared experiences of women who have been treated for breast cancer, and their family members.
The DVD can be explored via different chapters in separate viewings or from end to end in a single viewing.
Topics covered in the DVD include:
Early treatment issues including:
Lumpectomy or mastectomy - surgical options
Pathology: understanding the different kinds of breast cancer
Breast reconstruction options
What about lymphoedema?
Further treatment issues including:
Further Treatment issues
The ins and outs of chemotherapy
The experience of radiotherapy
Hormone therapy
Managing menopause
Special issues such as:
Participating in a cancer trial
Genetic issues
Coping at work
Financial concerns
Living in a rural area
Community supports:
Are support groups for me – or my family?
Boost your image, lift your spirits
Lifestyle issues and complementary therapies
Relationship issues:
The impact of breast cancer on relationships
What should I tell my children?
Friends: should I count on them?
Special issues of young women:
The road ahead:
After treatment
Moving forward: long-term emotional issues
To Order "So, I have breast cancer, what now?"
The DVD can be ordered through the Women' s Health Program, Monash University:
By Cheque.
Please make cheques payable to: Monash University
And mailed to:
Women's Health Research Program
Monash University
Level 6, The Alfred Centre
99 Commercial Road
Melbourne Vic 3004
(Please include your name, organisation and mailing address)
To order using credit card please click on the link below.
http://ecommerce.med.monash.edu.au/categories.asp?cID=10
For more information about this DVD please call the Women's Health Research Program on 03 9903 0827