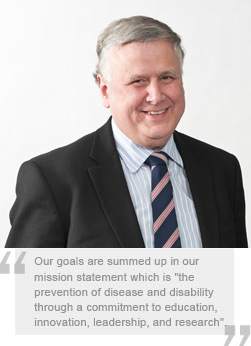 Welcome
I would like to welcome you to the web-site of the Monash School of Public Health and Preventive Medicine. We are the second largest of the schools within the Monash University Faculty of Medicine Nursing and Health Sciences. Our main base of activity is at the Alfred hospital, just off St Kilda road in the heart of Melbourne's major business and financial centre. Other important nodes of our School operate at Monash Medical Centre (Clayton), the Monash campus at Caulfield (on Dandenong Road) and at the Coronial Centre at Southbank (central Melbourne)
EDUCATION FOCUS
Our principal role is to conduct research and to train undergraduate and postgraduate students in public health and preventive medicine. Our goals are summed up in our mission statement which is "the prevention of disease and disability through a commitment to education, innovation, leadership, and research". We are unusual amongst Schools of Public Health in Australia though the extent of our involvement in both clinical and public health research. This provides a unique opportunity for clinicians to develop interests in the public health aspects of their specialties
The School has major responsibilities for teaching undergraduate and postgraduate students. We have extensive involvement with three undergraduate degree courses offered by Monash University: Bachelor of Medicine & Surgery (MB BS), Bachelor of Biomedical Science (BBiomedSc) and a lead role in the Bachelor of Health Science (BHSc).
Our postgraduate program includes the Master of Public Health degree. In addition we provide a range of Graduate Certificate, Graduate Diploma and Masters courses in Occupational & Environmental Health (OEH), Clinical Research Methods, Health Services Management and International Health. The School has been a foundation member of the Biostatistics Collaboration of Australia (BCA) to meet a critical need to train biostatisticians. At any one time we have over 130 doctoral students enrolled in the School undertaking advanced research degrees.
RESEARCH FOCUS
Over 75 per cent of our income is derived from research. With over 100 doctoral qualified staff we are Faculty's principal source of skills in epidemiology (including clinical epidemiology), biostatistics and large scale clinical data-management. We have particular expertise in the conduct of large epidemiological studies, multicentre clinical trials, clinical registries, evidence synthesis and health social science.
Our research activities are based on core strengths in the various methodologies that are required to underpin both clinical and public health research. These include epidemiology, biostatistics, data-management, health social science, epidemiological modelling and evidence synthesis. This 'methodology core' supports a range of specialty units focussing on various aspects of clinical and public health research.
Our research focuses on several of the most important agendas of healthcare including:
disease prevention & health promotion

increasing the evidence base of healthcare

improving quality and safety of healthcare

advancing health information technology;

assessing and improving the cost-effectiveness of health-care

improved translation of biomedical research into clinical & public health practice

prolonging disability free survival amongst the elderly

Improving the care of the critically ill and injured

reducing adverse health impacts of the environment and the workplace

monitoring the medium and long-term safety and efficacy of drugs, devices and interventions.

global health improvement
We work closely with the Alfred Hospital, Monash Medical Centre & other major Monash affiliated hospitals , research institutes and public health units within Victoria. Our skills provide a key resource underpinning translational research within our Faculty.
The health systems in Australia and other countries are entering a time of unprecedented challenges with aging populations, cost pressures and an increasing focus on the outcomes of care. Our School has skills and resources that are fundamental for addressing these challenges. The demand for our skills and resources is largely responsible for an average 12% compound annual growth in our budget since the mid 1990's.
Our work is intellectually challenging, interesting and important. Whether you are a potential student or a potential staff member we would urge you to contact us and explore opportunities for joining our highly talented and hard-working group.
John McNeil AM
Head of School