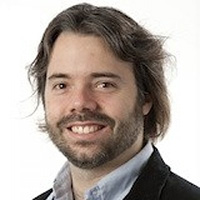 Dr Jose Polo, 2013 Victorian Tall Poppy and recipient of the Sylvia and Charles Viertel Charitable Foundation Senior Medical Research Fellowship
18 November 2013
Dr Jose Polo, from the School of Biomedical Sciences' Department of Anatomy and Developmental Biology and Australian Regenerative Medicine Institute, has been awarded the prestigious Sylvia and Charles Viertel Charitable Foundation Senior Medical Research Fellowship valued at $1.225 million.
The five-year fellowship, which will commence in 2014, is awarded to an outstanding medical researcher who has worked at a postdoctoral level for less than ten years and is seeking to establish a research career in Australia.
Dr Polo, an expatriate scientist from Argentina who has also worked in US labs, is delighted to secure funding here for his stem cell and regenerative medicine research.
"This fellowship will allow me to concentrate on my scientific program and tackle questions that require a long time to be addressed," he said.
Dr Polo, 39, asks fundamental questions about what makes one cell type different from others and studies how adult skin cells can be reprogrammed to become pluripotent stem cells, called iPS cells, for clinical benefit.
The stem cell researcher is also interested in how this technology can be used to study healthy and diseased cells, screen drugs and be harnessed to replace diseased cells in the body.
Dr Polo's fellowship news caps off a successful year for the researcher. Recently, he was awarded a 2013 Victorian Tall Poppy, one of eight awarded for scientific and intellectual excellence.