Monash eNotebook
Documentation of all forms is now predominantly created electronically and many paper records have been migrated to electronic form. Data generated by experimentation in the research field is also now digital. This is the current global trend.
When a document is written either on paper or electronically, the elements that support it in the case of an experiment for example, will mostly likely have a raw data fundament that will reside on one or more computers or storage media. In a paper document these can be referred to at best, following printing of pictorial or tabular representatives or interpretations. In electronic documents these can be linked to and stored together securely and centrally with a rejuvenating back up scenario. To this end the electronic notebook offers a unique strategy in data and intellectual property capture and management. If done with appropriate paradigms, it can integrate with current and future national and international standards. Examples of commercial stand alone e-notebook applications are in existence already, however an open standards approach combined with a universal and configurable interface is not currently available.
More information can be found at M-eNotes.
Monash eNotbook is a general-purpose electronic notebook software application.
It is a type of digital asset1 management system (DAMS).
It was initially prototyped at the request of and to meet the specific needs of the MISCL2.
It is intended for use by researchers in laboratory and non-laboratory contexts alike.
It is suitable for any researcher who wants a user interface based strongly on Microsoft Word.
It features digital signature for non-repudiation.
It can be used by individuals or collaborative research teams.
It stores all objects in their native file formats (no transcoding to proprietary formats).
It stores all information about the objects (metadata) in open standards (XML-based) to facilitate data mining and re-use by other authorized researchers and 3rd party applications.
Its functionality is totally customer driven by end-user researcher requests.
Potential applications include:
laboratory electronic notebook (with digital non-repudiation if required);
electronic notebook for field notes and materials, e.g. interview recordings;
packaging a published research paper together with all its source materials, raw data, intermediate results, tools, techniques, references and associated materials;
bibliography management (organizing research papers and reference materials);
organizing digital image, audio or video collections;
organizing text-based research materials, including collaborative drafting and version management and
committee papers.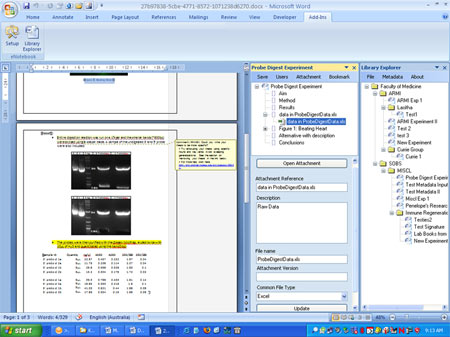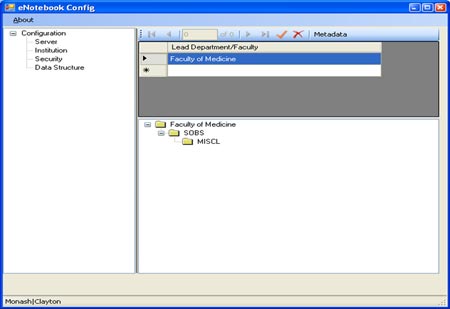 To participate or for more information, please contact the Faculty eNotebook team using the form below.
---
Footnotes
1 a "digital asset" or "digital object" is any digitized image, document, audio, video, spreadsheet or other file type, Mediaflux is a digital asset management system developed by Arcitecta
2 MISCL is the Monash Immunology and Stem Cell Laboratories