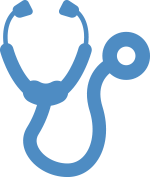 Master of Advanced
Health Care Practice
For information about fees, entry requirements and how to apply.
Click Here
The Master of Advanced Health Care Practice develops the in-depth knowledge and skills you need to work effectively in your specialist discipline and advance your career goals. While a successful career in health care rests on specialist clinical skills, many experienced health care practitioners develop an interest in research but find they lack the academic background required to pursue that interest. This master's program also offers a research stream that provides a pathway into a doctoral program.
The Master of Advanced Health Care Practice builds competence in research-informed skills and decision making in a range of specialisations. Interprofessional in nature, this program is designed to give general practitioners, nurses, midwives, physiotherapists, occupational therapists, radiation therapists, radiographers and practitioners working in primary health care the opportunity to gain a master's qualification to enhance their practice and their career options.

Advance your practice, advance your career
Contemporary health care systems face a range of challenges that place unprecedented demands on practitioners. Health care professionals need highly developed critical thinking, problem solving and specialist leadership skills to ensure the best outcomes for patients and clients.
---
Course structure
The Master of Advanced Health Care Practice is a 72 point degree structured in three parts:
PART A
Part A focuses on expanding core discipline skills (24 points)
PART B
Part B consists of one compulsory unit - Foundations for advanced health care practice
(12 points)
PART C
Part C provides the opportunity to pursue advanced specialist study through either coursework or a research focus
(36 points).

MASTER OF ADVANCED HEALTH CARE PRACTICE
All students complete Parts B and C. Depending on your qualifactions and experience, you may be eligible to apply for credit of up to
24 credit points towards part or all of Part A. Even if you are eligible for a credit, you can elect to do the longer form of the course.