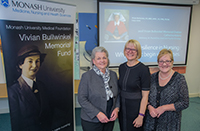 15th Vivian Bullwinkel Oration
The 15th Vivian Bullwinkel Oration, created as a memorial event to mark the contributions to nursing and its development of Vivian, Australia's most distinguished war nurse, was given by Dr Catherine Adams who addressed the topic of resilience and its importance in the everyday lives of health professionals.

Dr Adams works with cancer sufferers and the nurses who care for them. Catherine challenged the audience to examine how they might foster resilience in new nurses and equip them with the empathy and strength to stand with their patients through the most difficult of life's journeys.

Drawing on her expertise and insight as a psychologist, Catherine illuminated the extraordinary kindness and generosity of nurses at their best, and the contradictory lack of empathy for new nurses as they struggle to find their way in the profession. By leading us back to the inspirational example of Vivian Bullwinkel and her nursing colleagues of World War II, Catherine reminded us all that the path to resilience is though kindness and respect for each other.