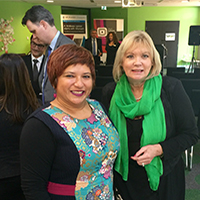 A Unique Relationship that Meets the Health Needs of a Multicultural Society

Dr. Ruth De Souza, Senior Lecturer at the School has commenced a joint appointment with the Centre for Culture, Ethnicity and Health to lead its research team. Dr. De Souza and her team are working towards building an evidence-base that paves the way to changing how the health sector works with an increasingly diverse community in the years to come.

Victoria's cultural diversity is growing. More than 45% of Victorians were either born overseas or have at least one parent born overseas. The more diverse society becomes, the more health services need to change to respond to this diversity.

To help the health system respond to diversity, there needs to be substantial evidence around the best ways to engage with people from refugee and migrant backgrounds and improve general health literacy amongst these groups.

Dr De Souza explains "This joint appointment will ensure that there is a strong bridge between research and practice," and she continues "The result of the partnership will develop best-practice models for health services and ultimately ensure better health outcomes in our increasingly diverse society".

Monash University School of Nursing and Midwifery has extensive experience in education and research. The Centre for Culture, Ethnicity and Health has been working with the health sector for the past 21 years to improve the quality of service delivery for refugee and migrant clients.
Dr Ruth De Souza's speech from the launch event to announce the joint partnership between the CEH and Monash University.