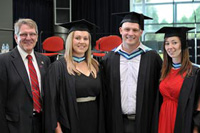 Monash University's Gippsland Medical School has celebrated its graduating class of 2012, with graduates helping to address the shortage of medical professionals in country Australia and showing the value ofregionally-based training facilities.
The 75 students, who began their studies in 2009, will graduate as the second ever cohort from Monash University's Gippsland Medical School, a purpose-built facility designed to specifically address the shortage of doctors and health professionals in Gippsland and other regional areas of Australia.
Acting Director of the Gippsland Medical School, Associate Professor Shane Bullock, said the graduation was a proud occasion for not just students and their families, but Monash University and local communities throughout Gippsland.
"The Gippsland Medical School was established to allow Monash to respond to the shortage of doctors in the region, and help develop a medical workforce that understands the specific needs of communities outside of metropolitan areas.
"Throughout their training, students from the Gippsland Medical School have been welcomed into hospitals, GP surgeries and health agencies of almost every town in Gippsland, providing them with an unparalleled perspective of life as a doctor in country Australia.
"Over time, we're confident this experience will see our graduates better understand the opportunities and benefits of working in country areas, and help make a significant contribution to helping meet the shortage ofmedical professionals in regional Australia," said Associate Professor Bullock.
Established just five years ago, the Gippsland Medical School also plays an important role in attracting students and staff from across Australia and around the world to Churchill. Among the 75 students graduating in 2012, six are from overseas, 13 are from interstate and seven have either lived or worked in Gippsland prior to becoming medical students.
And, helping to highlight the value of allowing local students to study locally, this year's graduating class includes three students from a secondary school situated less than five minutes' walk from the Gippsland Medical School itself.
Carly Jennings, Danielle Winkelman, and Andrew Thomas all completed Year 12 at Kurnai College in Churchill, before undertaking Bachelor degrees at universities across Victoria, and then returning to the Gippsland Medical School to commence their studies with Monash.
"The ability to not just study medicine in my home town, but experience the opportunities and rewards of working in regional communities such as those in Gippsland has been amazing," said Danielle Winkelman.
"During my four years at the Gippsland Medical School, I've worked with some inspirational health professionals, and have been fortunate to be accepted for the rural internship program, which will allow me to continue working with the communities of the Latrobe Valley, Sale and Heyfield for several years yet."
Image caption: From left: Mr Geoff Block, Principal, Kurnai College, pictured with Monash University Gippsland Medical School graduates, Danielle Winkelman, Andrew Thomas and Carly Jennings.