Brendan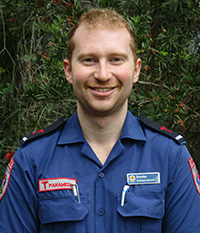 Bachelor of Emergency Health (Paramedic) Graduate
I have always enjoyed the aspect of helping people as part of an emergency service, so it was clear that a career in Paramedicine was for me.
Whilst studying the Bachelor of Emergency Health, I met many amazing people who I was able to learn with and learn from. The course was great, and I found all subjects really beneficial to the job itself. The staff with all of their experience and ongoing research, really do enable you to learn so much more than 'just out of a text book'.
Nowadays I have been on the road for about 3 years, and in that time I have been able to look back on my Monash days and draw from experiences and learning points that help me with my job. I am a CI on road and also am a Paramedic Educator at Karingal branch. This role pushes me to work hard to help increase education and ongoing learning with my colleges. I also work as a casual tutor in Paramedics at Monash and love doing that.
The best part about the job is that you never stop learning. Every day will be different.
---
Drew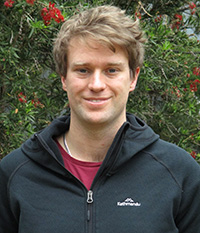 Bachelor of Emergency Health (Paramedic) Graduate
I knew that I wanted a career that had a strong health science base, was interactive, was largely based outdoors, and where I could be guaranteed a variability work load and location. This drove me to choosing to study paramedics at Monash University.
Having approachable lecturers who were all paramedics with vast experience was a great resource. They also continued to challenge and expand my understanding of health issues, constantly insisting on the importance of keeping an open mind when faced with treating someone with unusual signs and symptoms.
I enjoyed the clinical aspects of the course and especially the hands on weekly practical sessions with actual paramedic tutors, who would help us put theory into practice and give us an insight into how paramedics go about successfully treating patients in the real world.
The course had a strong research focus to further support the evidence-based community emergency health setting that paramedics work within. This not only helped me gain insight into current practices of why paramedics do what they do, but also gave rise to many potential areas that could be competently and safely undertaken by paramedics to help their patients.
Much like my time at university, I am still constantly learning new things and adding to my existing knowledge. This is just how it should be in order for me to continue improving care for those I care for. Only 3 years into my career, I genuinely believe that I have chosen a career that I love and will be part of for many years to come.
---
James
Bachelor of Nursing/Emergency Health Graduate
James Fowler was recently the recipient of the Sir John Monash Medal. The Medal is awarded annually to recognise extraordinary academic achievement to a final year undergraduate degree student. Only one student in each Faculty receives this annual award.
James received his medal at Graduation night and credits his friends, fellow students and educators in his receiving this award. He says "All throughout my time at Monash I was supported from every angle. Whenever I asked for help or a new opportunity, someone always obliged. This made me feel like a valued member of the Monash community, which in turn spurred me to fully apply myself during my time at university. It wouldn't have been possible without the late night quiz-sessions with my friends, the harsh (but usually fair) criticism on my assignments from my educators, and all similar moments throughout the four years."
James continues "The Sir John Monash medal is an achievement I am particularly proud of, as it represents a culmination of not just academic success, but also contribution to our community through advancing the University's goals of social justice, human rights and a sustainable environment. Throughout my time at Monash I always said "yes" when offered the chance to jump on board almost anything. The led me to become involved in a whole range of projects and meet a lot of passionate people - from the Australian Indigenous Mentoring Experience (AIME), to the Monash Residential Services Residents' Committee (ResComm), to presenting at the Paramedics Australasia International Conference, to becoming a Residential Advisor, to joining the MONtrack project." James reflects "At the time these didn't seem like anything grand - they were just little things I enjoyed doing - but I suppose they all add up, don't they? How did I achieve these awards? Simply by saying "yes" and just turning up."
James completed the Bachelor of Nursing/Bachelor of Emergency Health double degree as he felt the health field would be a perfect match for him, he knew he could never work in an office and he wanted to work in a field that was always changing and would enable him to keep learning, James explains "I'd had friends who studied medicine, and whilst I admired the knowledge and skills of doctors, I didn't fancy the lifestyle of long hours and frequent requirements to move between cities, states, and even countries with little say in where you end up. I really wanted interaction with people to be a fundamental aspect of whatever I did, and the more I thought about it, the more appealing a career in nursing and/or paramedicine seemed. For me, studying the double degree was an absolute no-brainer; it was only one extra year, double the knowledge, double the qualifications, and more than double the career opportunities!"
As for his views on whether the Monash experience was a good start to his career, James explains, "My time at Monash was a healthy combination of theoretical and practical work which, looking back, provided great preparation for the so-called 'real world' beyond university study. The varied clinical placements gave me plenty of opportunities to consolidate everything I'd learnt in the classroom. By studying both nursing and paramedicine I was able to gain two perspectives on almost everything, which not only significantly expanded my knowledge, but taught me that there are multiple ways to achieve the same outcome and everyone can have their own opinion based upon their previous experiences. A very important lesson for a career in health!"
And what of James since he graduated? "I was fortunate enough to be offered a graduate nurse position in the Emergency Department at the Royal Children's Hospital Melbourne, and I am currently about halfway through my graduate year. It is absolutely fantastic and I couldn't imagine learning and working anywhere else! I love the challenges of working with children, adolescents and their families, and I'm learning at a faster rate than ever before. Though Monash didn't prepare me with specific paediatric knowledge, I didn't feel overwhelmed or unequipped when starting at the Royal Children's. And I may not have known about nursing children, but Monash certainly prepared me with sufficient enquiry, reflection and independent learning skills to begin practicing and learning in this complex area."
James continues, "I've also recently started working within Monash University's Department of Community Emergency Health and Paramedic Practice (DCEHPP) as a research assistant. Alongside a very wise, very experienced staff member I'm undertaking a project investigating paramedic perceptions of providing care for children. It's very early days, but it's definitely an area of interest for me and I really hope it can grow into something fantastic! A further challenge for me following graduation is keeping connections and knowledge in the fields of both nursing and paramedicine, and I think working as a research assistant with DCEHPP is my answer to this. I am very interested in both professions, and I intend to remain connected with both as I progress through my career."
When it comes to what the future holds, James is less sure where he sees his career progressing. "I've always found this a very difficult question to answer. Every time I do something new I find a new passion and a whole new area to explore. I also don't like fixating too strongly on any long-terms goals - I think it can cause us to spend so much time and effort looking directly forwards that we can miss the shiny thing glistening in the corner of our eye. So far I love working with young people and their families at the Royal Children's Hospital, so perhaps I will continue exploring in that area. I also love helping people achieve things they never thought they could, so I can also see myself becoming involved education of some type in the future, possibly at a tertiary level? Working overseas has also been a dream of mine, and with my degree I am more than equipped to work almost anywhere in the world, so that is a definite option too!"