Paramedic University Challenge won by Monash University
Three years of hard work and study have paid off for Monash university students Benjamin Jenkins, Georgie Fraser, Nicholas Moffat and Ashleigh Delorenzo who recently represented Monash University DCEHPP at the Australia and New Zealand College of Ambulance Professionals University Challenge (ANZCP) held in Brisbane.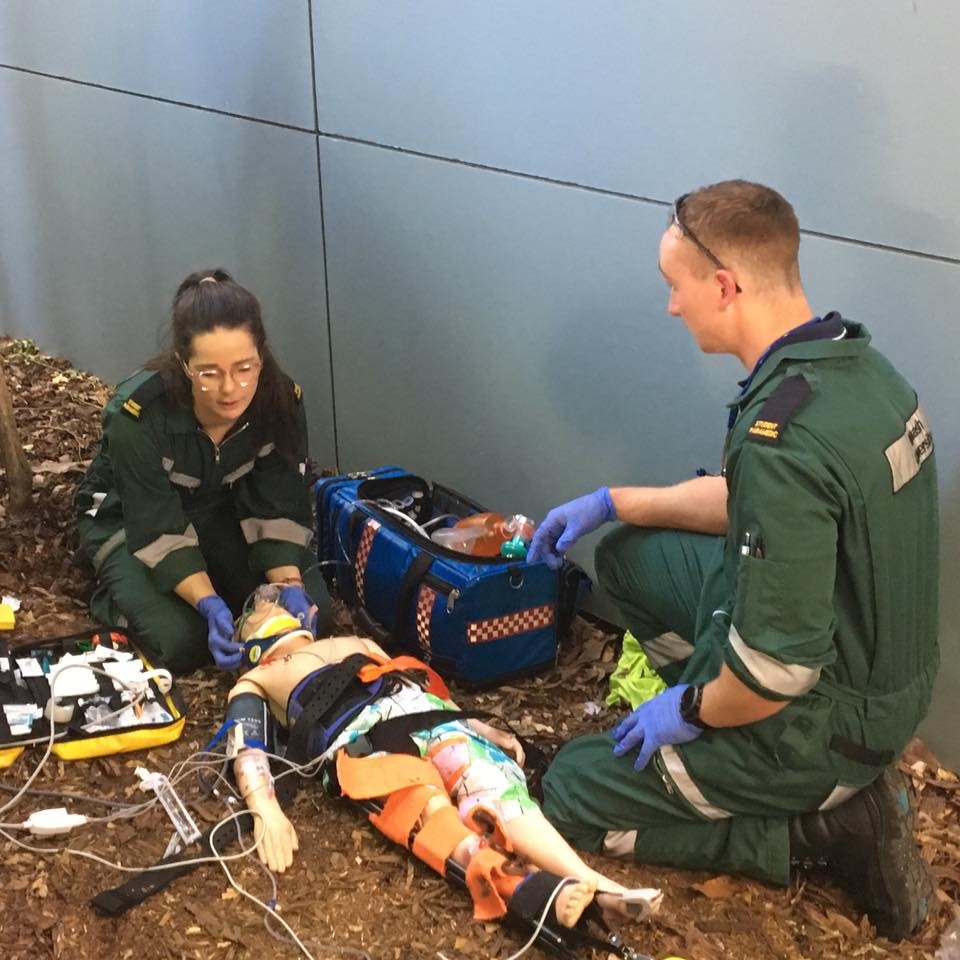 Ben and Georgie attending to a
Simulated patient at the challenge
"Challenge" is a very accurate word as students (working in pairs) were assessed on their management of medical and trauma scenarios, along with a critical reasoning simulation and a clinical presentation on a topic of their choice.
Clinical scenarios requiring complex decision making and thorough clinical assessment showed the level of experience and knowledge that is gained by students studying at Monash University.
Clinical presentation topics varied greatly from post-partum haemorrhage to the use of drones to deliver defibrillators to cardiac arrest victims.
Monash University students Ashleigh and Nicholas were fortunate to win this category with their presentation on Double Sequential Defibrillation, a relatively new innovation for the cessation of refractory Ventricular Fibrillation.
The overall challenge was also won by Monash Students Ashleigh and Nicholas who delivered a consistently high level of clinical expertise of all areas.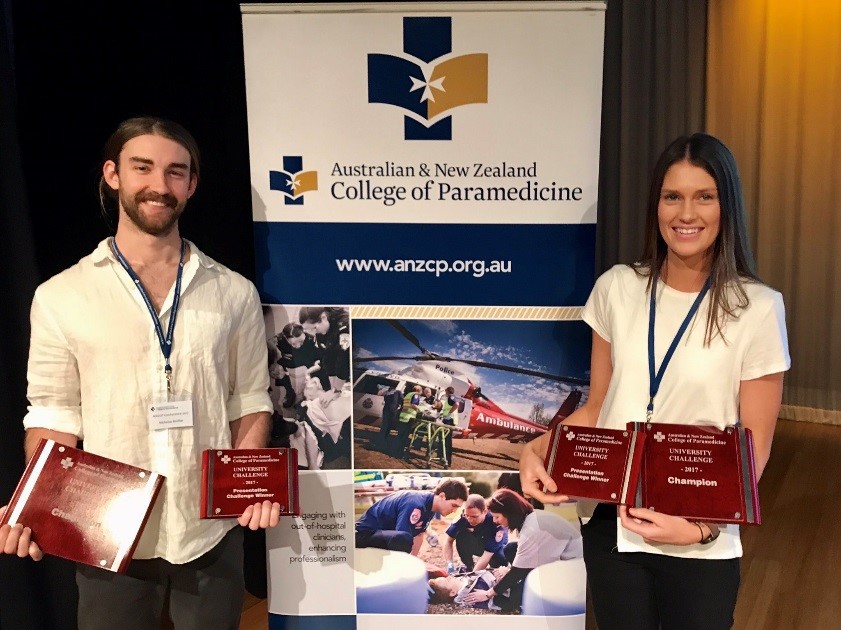 All students stood tall for Monash University and displayed a very high level of professionalism and respect in both competition and then following at the conference where they wore their Monash hats with pride
Three Minute Thesis success

Three minutes, one slide, one chance to sum up years of complex research.
Three Minute Thesis (3MT) is an annual competition that gives Graduate Research students the opportunity to present their thesis in just 3 minutes. Limited by time, the challenge lies in creatively condensing and conveying their research to a general, non-specialist audience.
After a series of fiercely competitive faculty rounds, 13 finalists competed in the Monash 3MT final on 10 August at Clayton campus.
Paramedic PhD student, Simon Sawyer, emerged victorious as this year's 3MT Monash winner with his presentation 'Paramedics: A new resource for women experiencing Intimate Partner Violence'.
Simon's thesis focuses on equipping paramedics with the knowledge and resources to recognise and respond to Intimate Partner Violence (IPV). At a time when one woman dies in Australia each week at the hands of a current or previous partner, it's research that is especially timely.
"As part of this educational response I have created the world's first guideline for paramedics to recognise and respond to IPV. This guideline can be easily modified for use anywhere in the world, and will allow paramedics to more effectively recognise the signs of violence and talk to patients about IPV, including connecting them with care and support," Simon said.
Simon will now represent Monash at the Asia-Pacific 3MT finals at the University of Queensland next month
---
Accreditation

Last week the Department of Community Emergency Health and Paramedic Practice (DCEHPP) hosted the Council of Ambulance Authorities (CAA) accreditation site team at Peninsula Campus for the Bachelor of Paramedicine re-accreditation. The two-day visit included interviews with senior Faculty staff (Prof David Copolov [Pro Vice-Chancellor, Major Campuses and Student Engagement] and Prof Grant Russell [Head, School of Primary and Allied Health Care]) as well as interviews with DCEHPP staff, students, sessionals and alumni. The visit also included an overview of the new immersive simulation centre and postgraduate facilities at Notting Hill. Over the two-days the site team were provided background on the Bachelor Paramedicine, DCHEPPs strategic and marketing plan, clinical placements and new service models, pedagogical and assessment innovations, student welfare and OH&S and research growth and capacity. The site team were extremely impressed with all facets of our program, the staff morale and enthusiasm and openly stated our standing as national (and international) leader in paramedic education and research. We have been granted accreditation till 2022. A great achievement and testament to everyone's commitment to our program, university and profession.
---
Simon Sawyer wins Faculty 3-minute thesis award

Big congratulations to Simon Sawyer for winning the Faculty's 3-minute thesis award last month. Simon's presentation examined his PhD work on the "The paramedic response to intimate partner violence". Simon will now represent the Faculty of Medicine, Nursing and Health Sciences at the University awards on the 10th of August.
---
DCEHPP celebrates Ramadan Iftar

DCEHPP staff and our three of our current Middle Eastern PhD students (Eihab Khasawneh, Saeed Alqahtani, Ahmad Alrawash) celebrated our inaugural Ramadan Iftar at Peninsula Campus. A range of food, both local and Middle Eastern were offered in celebration to our students and staff who had fasted throughout the day. We were also very pleased to be joined by Professor David Copolov (Pro Vice Chancellor, Major Campuses and Student Engagement) who was very pleased with the Peninsula Campus engaging in cultural activities such as a Ramadan Iftar.
Pictured L-R: Eihab Khasawneh, Professor David Copolov, Saeed Alqahtani, Ahmad Alrawash, Associate Professor Brett Williams
---
Congratulations to Dr Ala'a Oteir

DECHPP would like to extend their congratulations to Dr Ala'a Oteir for his recent PhD graduation; Dr Ala'a becomes the very first Jordanian paramedic to graduate with a PhD. In his doctoral research, Dr Ala'a Oteir investigated the prehospital management and epidemiology of suspected Spinal Cord Injuries (SCI) in Victoria, with an emphasis on how prehospital spinal immobilisation would affect the patients' outcomes.
Acknowledgements go to Dr Ala'a supervision team: Professor Just Stoelwinder, Professor Karen Smith, and Dr Paul Jennings. Dr Ala'a is now the paramedic leader at the Jordan University of Science and Technology.
---
DCEHPP continues its funding success

Simon Sawyer and staff from the Department of Community Emergency Health and Paramedic were recently successful in obtaining funding from the School of Primary and Allied Health Care for the following project: "An outcome measure for intimate partner violence educational interventions". The impact of the project is significant. Intimate partner violence (IPV) is a leading contributor to death and illness for women. The healthcare sector response centres on improving the education of practitioners to recognise and refer patients to care and support. The evaluation of educational interventions is problematic due to a lack of robust outcome measures.
This project aims to create a new outcome measure to measure the impact of educational interventions on the knowledge, attitudes and skills of healthcare students and professionals. Currently there are no tools with reported psychometric testing demonstrating they are robust measures of the knowledge, attitudes and skills for healthcare professionals in Australia. The project will be completed in 12 months and outcomes will allow other healthcare discipline across the School and University using IPV educational interventions access to a valid and reliable measure.
---
Summer Scholarship Successes and Reflections: Ashleigh Delorenzo

Last year I was involved in the Summer Research Scholarship program with the Department of Community Emergency Health and Paramedic Practice. My project was run in conjunction with Ambulance Victoria (AV), exploring the characteristics of fixed-wing air ambulance transports. Over the eight-week period I spent my time at AV headquarters working with the research team, as well as participating in research workshops at Monash. My project was then accepted for a poster presentation at the AeroMed Conference in New Zealand and the Student Paramedics Australasia Conference in Sydney, both of which I attended last year. More recently the manuscript was published in the Air Medical Journal.
Participating in the Summer Scholarship program has been an extremely positive learning experience. Working on this project enabled me to further my research skills, network with other professionals in the field and further my own personal development. I have gained experience in ethics applications, data cleaning and analysis as well as the publication process. The Department of Community Emergency Health and Paramedic Practice provided a supportive environment and have continued to encourage me to build on my research skills beyond this project. This has been a great opportunity that I am extremely grateful to have experienced and I would encourage all students to become involved with this program at any opportunity.
---
DCEHPP receive new vehicles from RACV

Student paramedics were able to put their newly learnt skills to the test with two vehicles very generously donated by RACV. The two new vehicles include a Toyota hatchback and a Nissan people mover. Equipment Officer Jo O'Reilly says the new vehicles are a perfect fit as the van allows for multi casualty training exercises, and the hatchback allows extrication training through the back of the hatch, when the front of the vehicle has major collision damage. Simulated exercises that take the students out of the classroom are invaluable for learning and consolidation of skills, due to a more realistic environment, practising skills in real time and promoting reflection on practice.
---
Tuwharetoa, New Zealand CPR and AED Defibrillation Course

Ngati Tuwharetoa is the sixth largest Iwi (Marae tribe) in New Zealand, located in the centre of the North Island of New Zealand. Their passion and drive is to improve the health of Tuwharetoa people. The distance from ambulance stations too many of the Tuwharetoa Marae is substantial, meaning lengthy delays in an ambulance arriving especially for critically unwell patients. An identified need was to have automated defibrillators placed on all Marae or in a significant location within the community surrounding the Marae. Tuwharetoa asked Janet Curtis, Lecturer - International Projects with DCEHPP, Monash University to assist with the first set of courses.
A CPR and AED course was designed and piloted with the Ariki (Chief) office and several Marae to ensure content met the needs of the Iwi. The focus was on practical hands-on, not overwhelming the participants with lots of written information; going at a speed that left them feeling confident with their newly acquired skills and discussing cultural issues that may arise when doing CPR. Funding was received from Tuwharetoa Trust Board and Mercury Energy to purchase AED defibrillators and fund 10 courses, for members from 20 Marae.
The first official course was held on 29 March 2017 at the Waitetoko Marae. Participants came from Waitetoko, Poukura and Hikairo Marae. Janet was assisted by Teresa Chapman, a Tuwharetoa member. Cultural protocol was adhered to on the Marae with karakia (prayer) starting and finishing off the day. Lively discussion was held and addressed some important ethical and cultural issues. The age range of participants was diverse, with Kaumatua (Elders) also participating. Everyone got actively involved and showed great technique in CPR. Feedback from the participants indicated the outcomes were met with comments "I feel more confident now. Should someone need assistance, I feel I am able to help. Thanks so much"; "Cool! I found that I could understand (the material)"; "Wonderful trainers – the course was not regimented"; and "Very important matauranga (knowledge, wisdom, understanding, skill) that we learnt today ".
---
DCEHPP funding success


A/Prof Brett Williams from the Department of Community Emergency Health and Paramedic Practice, and Dr Becky Batagol, and Dr Adiva Sifris from the Faculty of Law have been successful in obtaining $34,000 in funding to continue their research on the mental health of law students at Monash University. This funding will extend research from work undertaken in 2015 that found 259 undergraduate law students self-reporting alarmingly high levels of mental ill-health (depression, anxiety and stress) in comparison with students at other Australian law schools.
This was undertaken using the DASS-21 tool, a validated clinical and research tool to measure levels of depression, anxiety and stress. Results were alarming from the perspective of the mental health of law students at Monash in 2015. This new funding will now explore identifying strategies or interventions for redress/reduction in stress/anxiety/depression in law students.
---
DCEHPP grant success


A team from the Department of Community Emergency Health and Paramedic Practice, Turning Point and the Department of General Practice were recently commissioned to complete a Rapid Review of the literature for the NSW Ministry of Health via the Sax Institute.
The team includes A/Prof Brett Williams, Prof Dan Lubman, Dr Kelly-Ann Bowles, Dr Samantha Chakraborty, and Ms Bronwyn Beovich. It is intended that the review will be used by the NSW Ministry of Health to identify and describe the components of best practice models of residential rehabilitation services for women. The information about such services will be used to develop tender specifications for new residential rehabilitation services that will be contracted with NGOs in 2017.

The review will also be used by the Alcohol and Other Drugs Branch to inform Ministry staff, LHD staff, and agencies providing residential rehabilitation services with the aim to improve knowledge about effective models of care, and inform possible approaches to evaluation of existing models, particularly where it is intended that services will be contracted. The completion of the review was worth $32,000 and is a great start for the planned Centre for Addiction Research & Recovery, which is to be based at the Peninsula Campus.
---
DCEHPP welcomes two new PhD students


DCEHPP recently welcomed our latest PhD students Mr Eihab Khasawneh from Jordan and Mr Justin Hunter from the United States. Amad holds an academic position at the Jordan University of Science and Technology (JUST) and is our third JUST paramedic PhD scholar. Eihab's PhD will focus on paramedics' educational standards in Jordan and will be supervised by Assoc Prof Brett Williams and Dr Cam Gosling. Justin currently works as a paramedic in Norman Oklahoma. Justin's PhD will address crisis resource management in paramedicine. He will be supervised by Assoc Prof Brett Williams and Dr Michael Porter. We wish Amad and Justin all the very best with their PhD studies at Monash.
---
Emergency responders descend on central
Frankston for mock training session

MORE than 75 emergency responders from multiple agencies descended on central Frankston recently for a mock training exercise. Department of Community Emergency Health and Paramedic Practice students, teamed with Frankston Police, Bayside Shopping Centre, Frankston CFA and Frankston Council for the drill designed to test the organisations' co-ordinated responses. A car fire simulation and two serious assaults were set up at Bayside Shopping Centre. The drill went very well and the teams worked well together. It is great to see relationships with external partners being built to maintain community safety.
---
Graduate Education Supervisor Development Grant success.

Kelly-Ann Bowles (DCEHPP), A/Prof Brett Williams (DCEHPP), Nathan Stam (DCEHPP), Prof Terry Haines (Physiotherapy), Dr Cylie Williams (Peninsula Health) and A/Prof Stephen Maloney (Physiotherapy) have recently been awarded $15,000 under the 2017 Supervisor Development Grant funding round. Their project will be looking at strengthening supervisory partnerships with our Health partners. The proposal outlines a measured approach to engaging external supervisors and developing skills commensurate with Monash University expectations. As Monash continues to develop relations with more industry partners, the approaches adopted by this team to close skills and expectations gaps between Monash supervisors and their industry colleagues will have the potential to be highly instructive for other academic units.
---
Grant Success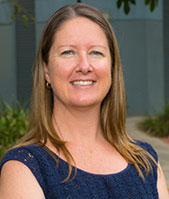 Congratulations to Linda Ross from the Department of Community Emergency Health and Paramedic Practice who was recently successful in obtaining a University Office of Learning and Teaching (MU-OLT) Education Focused Support Grant. These grants are for education focused academics engaged in the Better Teaching Better Learning agenda who lead change and innovation across their faculty and/or more broadly across the university that will impact on other staff and on students and lead to improvement of teaching and learning at Monash. Linda has been awarded $7,500. Congratulations Linda!
---
Congratulations to Dr Abdulellah Al Thobaity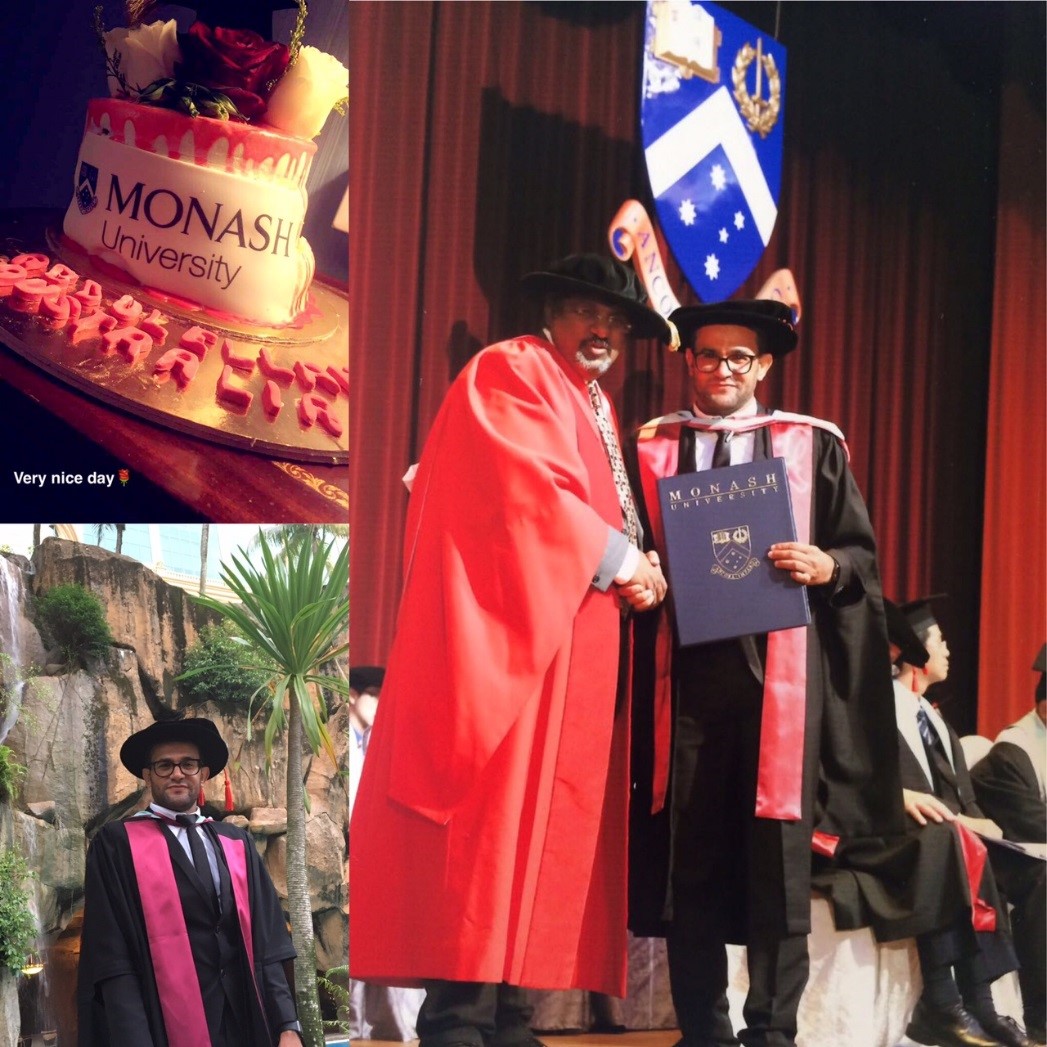 DECHPP would like to extend their congratulations to Dr Abdulellah Al Thobaity for his recent PhD graduation. In his doctoral research, Dr Al Thobaity explored the nursing core competencies and roles in the Kingdom of Saudi Arabia (KSA) under the supervision of Assoc Prof Virginia Plummer and Assoc Prof Brett Williams. We wish Dr Al Thobaity all the very best in his new nursing leadership position at Taif University, KSA, and hope to see him soon.
---
DCEHPP/Ambulance Victoria Research Planning Day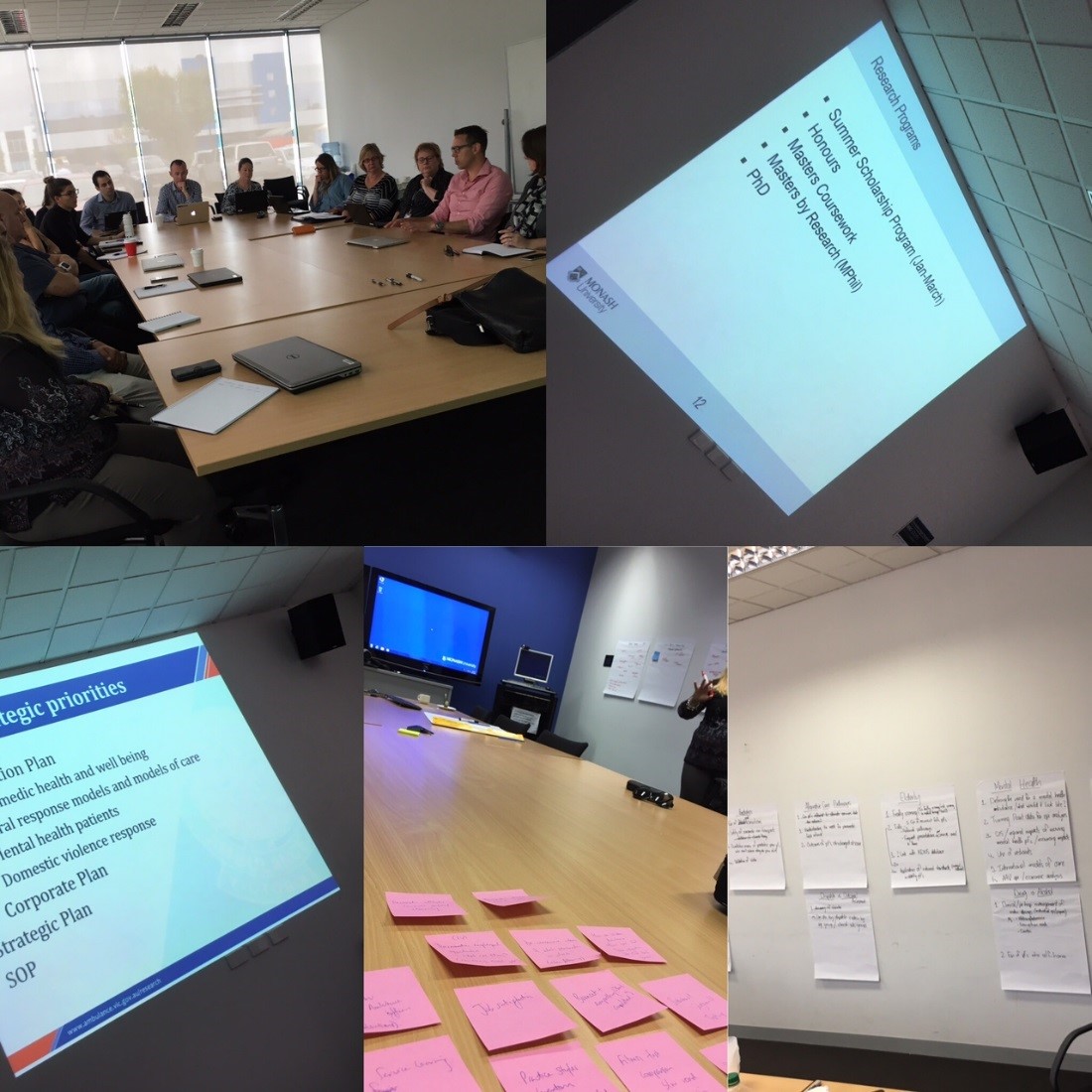 This week marked a significant point in DCEHPPs and Ambulance Victoria collaborative history together. The inaugural research planning day aimed to develop a significant number of research projects for DCEHPP and Ambulance Victoria, while also supporting clinicians in undertaking research or supervising other research students. DCEHPP were recently successful at securing a 2017 Supervisor Development Grant which aims to support the professional development of graduate research supervisors (including clinicians) and this day provided the first part of this process for clinicians working as paramedics. The day was enormously successful with over 80 research projects being developed under guidance from Assoc Prof Karen Smith and Dr Kelly Bowles.
---
DCEHPP Welcomes Brigadier General Meshref Ali Alamri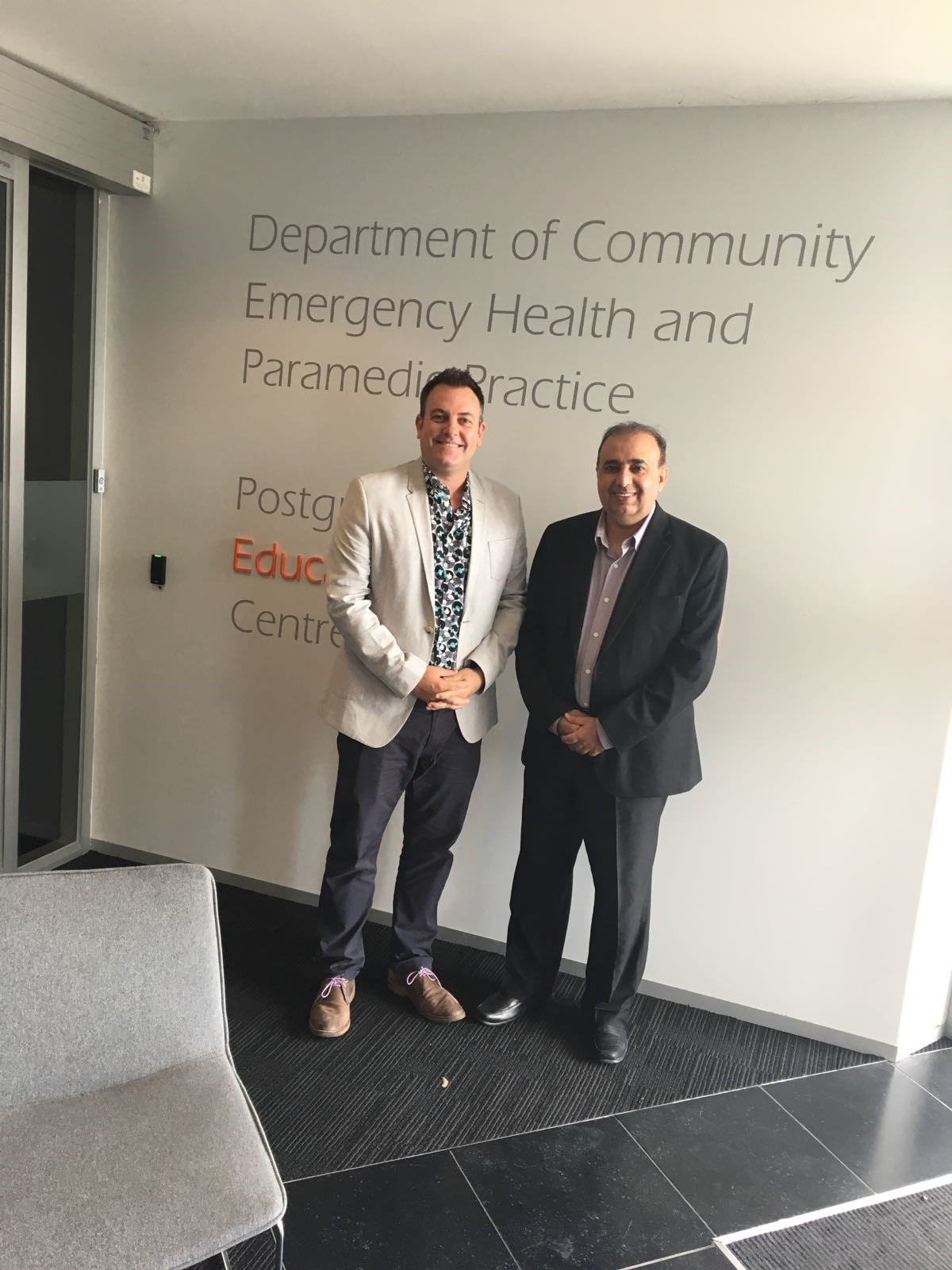 DCEHPP had the pleasure and honour of hosting Brigadier General Meshref Ali Alamri from the Ministry of Defence, Kingdom of Saudi Arabia this week. Dr Mashref's visit included a number of meetings with senior faculty staff; and a review of the postgraduate paramedic programs and research projects.
---
DCEHPP and Ambulance Victoria Curriculum Meeting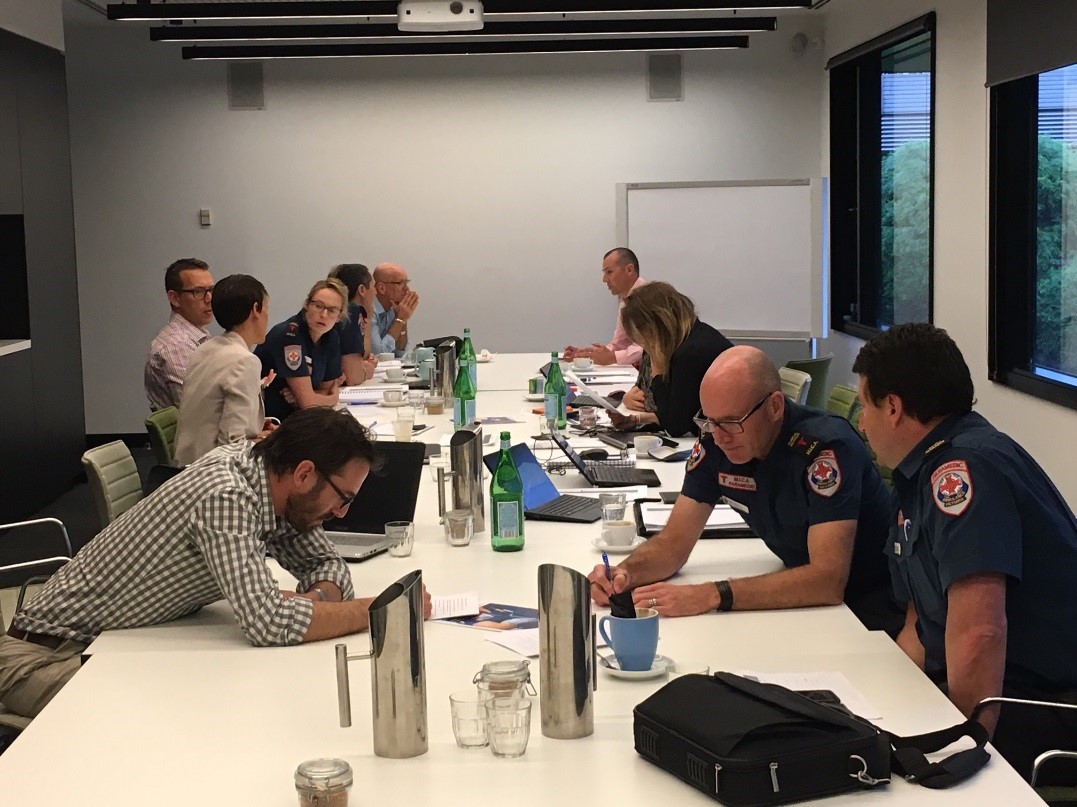 DCEHPP staff along with senior Ambulance Victoria staff attended the annual DCEHPP Postgraduate curriculum review; this also included a Delphi Method exploring if the current Intensive Care Paramedic Graduate Attributes are accurate for Ambulance Victoria and community needs. Results of this will ensure greater curricula coherence within the Intensive Care and Aeromedical programs.
---
Final presentation by PhD scholar Ala'a Oteir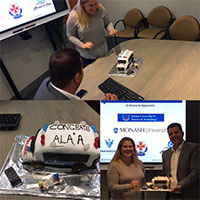 DCEHPP bids farewell to Ala'a Oteir (pictured here with DCEHPPs Research Director, Dr Kelly Bowles) this week who heads back to his native homeland: Jordan.
Ala'a currently has his PhD titled: 'The Pre-Hospital Management of Suspected Spinal Cord Injury and its association with patient outcomes' currently under examination. We heard from Ala'a on his PhD journey, the number of journal publications forming his PhD, and what personal achievements arose throughout his PhD.
We look forward seeing Ala'a at the Jordan University of Science and Technology (JUST) next month at the 2nd EMS Conference in Jordan, and also with future collaborations with DCEHPP.
---
Collaborative Interprofessional Health Care in Vietnam: 2016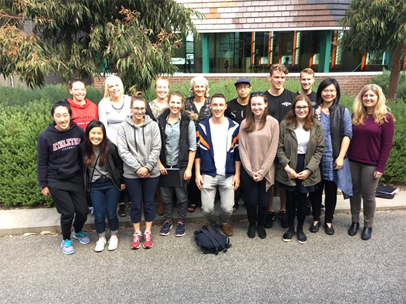 This month a group of students from Faculty of Medicine Nursing and Health Sciences are setting off on a new initiative exploring interdisciplinary health care in a completely different context. Twelve students will travel to Ho Chi Min City in Vietnam during November and December 2016 to meet local health professionals and Australian Aid workers.
This 4 week international student mobility program is a pilot project of undergraduate interprofessional practice and volunteering led by Alison Francis-Cracknell from the Physiotherapy department building upon Alison's own healthcare volunteering experience in Vietnam in 2012/2013. It is a joint project of the Departments of Physiotherapy, Occupational Therapy, Community Emergency Health and Paramedic Practice and the School of Nursing and Midwifery, supported by Monash Abroad, the School of Primary Health Care and external engagement with Scope Global project management.
Students will have the opportunity to explore health and health education in Vietnam, meeting with staff and students from the University of Medicine and Pharmacy in Ho Chi Minh City, visiting 4 hospitals and a rural community health service, undertake local language classes and meet with Australian health volunteers currently working in Vietnam. They will also work on group projects aimed at developing their international health care perspective, cultural capabilities and insight into the delivery of culturally appropriate healthcare services.
---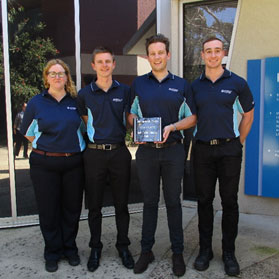 Ferno Sim Challenge from the 2016 Student Paramedics Conference in Sydney
A team of 4 Monash Paramedic students recently attended the 2016 Student Paramedics Australia Conference in October. The team of students were selected to represent Monash University and DCEHPP at a national paramedic simulation competition. Ten teams of future paramedics from Australian Universities competed in the 15-minute simulation. Each team was judged by a panel of experts on their scene control, team communication and patient management. The scenario was held in a university lecture theatre which had been converted into a mock movie theatre.
With the lights down, a Jason Statham action film blaring over the PA system, the team from Monash responded to movie-goer who was 'generally unwell'. The team consisted of a team leader, two responding paramedics, a reserve paramedic (Michael Hastie, James Baird, Ben Jenkins and Breanna Mackey respectively) and only one set of gear. Upon entering the scene, lights were turned on, the movie was paused, and patrons were moved from their seats so we could gain access to our patient. It was crucial that we treated all of the patrons with respect and communicated effectively with them. Our patient was displaying signs of a stroke, which was confirmed with further assessments. Overall, we performed well (coming 3rd overall) and really enjoyed the day and opportunity to practise our clinical skills in challenging circumstances. (Michael Hastie on behalf of the team).
---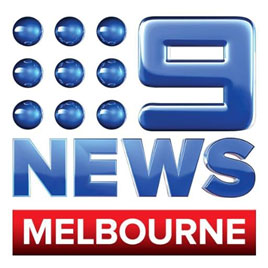 DCEHPP Researcher makes the Channel Nine news
Dr Kelly-Ann Bowles, Director of Research at the Department of Community Emergency Health and Paramedic Practice and her research team believe that a contributing factor to women's back and neck pain is a poorly fitting bra. They are currently recruiting women for a world first study into the role of poorly fitting bras in the increasing prevalence of chronic shoulder pain in the community. Future research will also explore if shoulder pain exists among healthcare practitioners.

If you would like to know more about this research or if you would like to participate in the study please contact Kelly at kelly-ann.bowles@monash.edu
To see the full channel nine story please click here: https://twitter.com/9NewsMelb/status/788649811633242113
---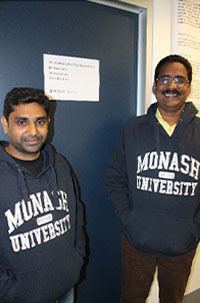 DCEHPP welcomes EMTs from GVK EMRI, India
DCEHPP recently welcomed our latest international guests: Mr Madhusudhan Gannamani and Mr Ravi Surla from GVK EMRI, India. Mr Gannamani and Mr Surla are currently EMT instructors for GVK EMRI in Hyderabad, India.
Their four-week visit has culminated from several collaborations between GVK EMRI, NTRI, The Alfred, Ambulance Victoria and Monash University. The aim of the visit is to explore paramedic education and training at Monash University and Ambulance Victoria and learn new systems of out-of-hospital care.
---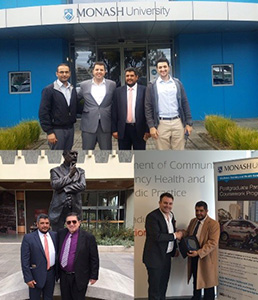 DCEHPP welcomes Dr Mohammad Alzahrani
DCEHPP recently hosted Dr Mohammed Alzahrani (Head, Emergency Medical Services) from Almaarefa Colleges, Saudi Arabia. During Dr Alzahrani's two-week visit he met key DCEHPP staff from our undergraduate and postgraduate teams, our current Middle Eastern PhD students, as well as senior Faculty staff from the Middle Eastern Projects Office and Ambulance Victoria. Other visits included the CAVE2 at Monash and Air Ambulance Victoria. This was an important visit supporting Monash's ongoing relationship with Almaarefa College and we look forward to future visits to Saudi Arabia in the near future.
---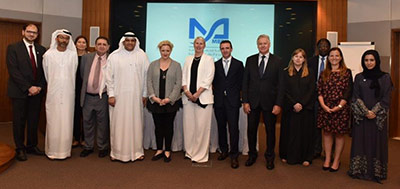 Monash strengthens ties with Mohammed Bin Rashid University during UAE visit
Monash's Dr Nizar Farjou from the Office of the President and Vice-Chancellor accompanied the Victorian Minister for Health and Minister for Ambulance Services, The Hon Jill Hennessy, on a visit to the United Arab Emirates (UAE) last month.
They toured Dubai Healthcare City and visited the Mohammed Bin Rashid University of Medicine and Health Sciences (MBRU). Dr Farjou also took the opportunity to brief the Minister about Monash's engagement with UAE and the other five Gulf Cooperation Council member states (Saudi Arabia, Kuwait, Qatar, Bahrain, and Oman).
The visit tied in with the recent launch of Victoria's International Health Strategy 2016-2020 in which the Middle East and North Africa (MENA Region) are identified as a high growth market. The government seeks to increase its presence in these key international markets by providing support around several health industry segments and developing new jurisdictional partnerships.
Key outcomes of the visit were the identification of many avenues for collaboration between Monash University and MBRU, particularly in the fields of hospital management, trauma and injury, clinical simulation and paramedics.
"The Mohammed Bin Rashid University has redefined excellence in medical education, training and healthcare through progressive leadership and innovation. We are very excited about this partnership," Dr Farjou said.
---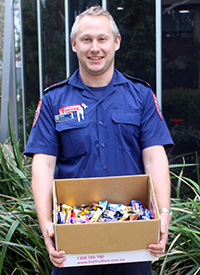 Thank a Paramedic day
This year the 28th July 2016 marked a very special day for the budding paramedic students of the Department of Community Emergency Health and Paramedic Practice - it was 'Thank a Paramedic Day 2016'. This day has not traditionally being recognised until recently when in 2015, Ambulance Victoria orchestrated a media campaign to improve the public's ability to thank their local Ambo's. The day sees the reconnection of many patients and their families with the paramedic crew members who worked so hard to assist them during their time of greatest need. It provides patients with a chance to say 'Thank You' in person for the life-saving treatment they have received. It also humanises just how big a difference the care and reassurance provided by paramedics makes to patients and their lives.
At Monash University Peninsula Campus we celebrated the day by thanking our hard working student paramedics with a rewarding chocolate during their lectures, to thank them for choosing a tough but noble profession.
---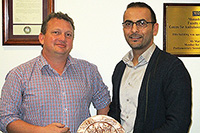 DCEHPP welcomes new PhD student
DCEHPP recently welcomed our latest PhD student Mr Amad Alrawashdeh from Jordan. Amad holds an academic position at the Jordan University of Science and Technology (JUST) and is our second JUST paramedic PhD scholar. Amad's PhD will focus on paramedics' management and care of acute coronary syndromes and is supervised by Dr Paul Jennings. We wish Amad all the very best with his PhD studies and time here in Melbourne Australia.
---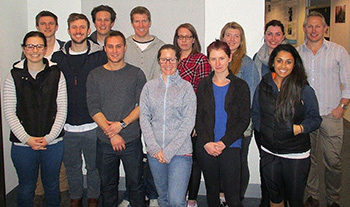 Paramedic Near-Peer Teachers 2016
Our 2016 DCEHPP final year near-peer teachers undertook their orientation and induction today. This session covered educational theory, advantages and disadvantages of NPT, teaching tips and alternate feedback models. The aim of the NPT team for this semester is to help assist teaching in tutorial and practical sessions for 2nd year trauma studies and 1st year foundation clinical studies. We are thrilled to have such a fine group of motivated individuals enrich our Bachelor program, while also improving their own knowledge, skills and communication skills at the same time.
---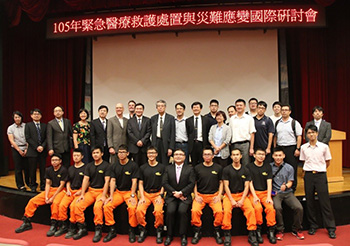 Taiwan EMS Conference
(2016年緊急醫療救護處置與災難應變國際研討會)
Both Brett Williams and Ian Patrick were recently invited keynotes at the 2016 International Emergency Medical Practice and Disaster Response Conference, Taiwan 2016年緊急醫療救護處置與災難應變國際研討會. This was an excellent opportunity to share our experiences of the Australian paramedic education system and also the operations and service delivery models of Ambulance Victoria. Presentations were provided over three days at Chang Gung Memorial Hospital, Linkou, Fire Rescue Training Centre, Hsinchu City, and Far Eastern Memorial Hospital, New Taipei City. We were also privileged to visit the New Taipei City Communications Centre and also observe a simulated building collapse and patient extrication at the Fire Rescue Training Centre, Hsinchu City.
---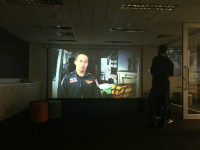 DCEHPP New Postgraduate Training Centre taking shape
DCEHPPs new Postgraduate Training Centre is half way through its new renovations in building 3, Notting Hill Campus. Renovations initially commenced during January 2016 under the careful eye of Emma Stam (acting Head of Postgraduate Programs) and are expected to be fully completed by August 2016. The last phase of the project is the establishment of an immersive simulation area that is likely to shape future simulation education for paramedics. Stay tuned …
---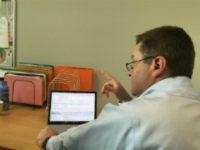 Mr David Page, PhD travel scholarship
DCEHPP was very pleased to sponsor David Page on a PhD travel scholarship to Melbourne, Australia during April 2016. The three week visit provided David to work on his PhD, meet key librarian and other academic staff and discuss opportunities of international exchange student programs between Australia and the United States. We hope to see David again soon and wish him well on his PhD journey.
---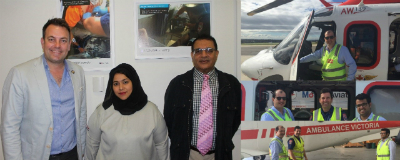 DCEHPP host Fellows from King Saud University and Dubai Corporate Ambulance Service
DCEHPP was very honoured to sponsor and host four international guests during May-June 2016. We had the pleasure of hosting Dr Osama Samarkandi and Abdullah Mubarak from Prince Sultan College for Emergency Medical Services King Saud University (KSU), Kingdom of Saudi Arabia and also Dr Omer Al Sakaf and Maryam Oafi from the Dubai Corporate Ambulance Service (DCAS), Dubai, UAE. During this visit DCEHPP was able share our insights into our education programs for both undergraduate and postgraduate studies, this included visits to Monash's research facilities and visits to our industry partners Ambulance Victoria, The Alfred and Metropolitan Fire Brigade. We look forward to sharing our joint education and research experiences with KSU and DCAS in the near future.
---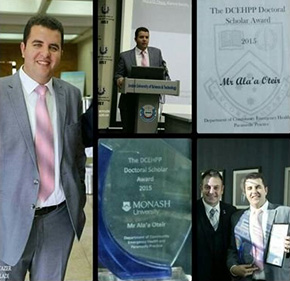 Mr Ala'a Oteir recipient of DCEHPP Doctoral Scholar Award 2015
Mr Ala'a Oteir was the inaugural winner of the DCEHPP Doctoral Scholar Award in December 2015. This award was recently presented to Ala'a at the 1st EMS Conference held at the Jordan University of Science and Technology (JUST) for his work on his PhD study (Examining best practice in spinal injuries in the out-of-hospital setting). This award was due recognition for Ala's continued and sustained excellence and development not only as a PhD scholar, but also as a future EMS leader in Jordan and the Middle East. On behalf of DCEHPP, Monash University and his PhD supervisory team we wish Ala'a continued success in his PhD studies.
---
DCEHPP and Jordan University of Science and Technology (JUST) sign MoU
Following a very successful trip to JUST and attendance at the 1st EMS Conference held in Jordan (2-3rd December 2015) a Memorandum of Understanding (MoU) has been signed by the Dean of Medicine, Nursing and Health Sciences, Monash University Professor Christina Mitchell and the Dean, Faculty of Applied Medical Sciences, JUST Professor Yousef S Khader. The MoU signifies clear intent between both Faculties (specifically paramedicine) in seeking joint education and scholarship collaborations. Key aims of the MoU include exchange of scholars, staff and students as well as joint course and curricula development.
---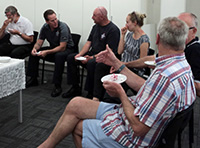 Celebration of the first year of the EMR courses contract
On Tuesday 17th November a function was held at the Metropolitan Fire Brigade (MFB) Training Complex Burnley Street Richmond between the staff of the MFB Emergency Medical Services Department and the Department of Community Emergency Health and Paramedic Practice.
Organised by Lisa Sarris the Monash EMR Course Co- coordinator, it allowed Brigade and Monash educational staff to gather collectively in a social atmosphere to celebrate the successful completion of the first year of the EMR courses contract.
Acting Commander Graeme O'Sullivan and SSO Alan Drury of the MFB, spoke of the long and successful relationship enjoyed between the MFB and Monash University.
Assoc Prof Brett Williams, Head of DCEHPP thanked all those involved from both organisations for their excellent work over the 2015 training period. He also outlined the potential for expansion into future co-joint research projects between the two organisations.
---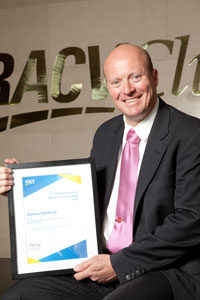 Experience with the use of ketamine as a pre-hospital analgesic in emergency aeromedical responses.
A retrospective cohort study
On Wednesday 28th October 2015, Damien Dambrosi from the Department of Community Emergency Health and Paramedic Practice at Peninsula campus was awarded the prestigious RACV Sir Edmund Herring Memorial Scholarship to undertake research into emergency care of those who have sustained a traumatic injury.

Ambulance Victoria (AV) currently uses ketamine as a pre-hospital analgesic by the air ambulance service. Ketamine is administered to patients by Mobile Intensive Care Ambulance (MICA) flight paramedics. Treatment is given according to clinical practice guidelines set out by AV's medical advisory committee.

The study is being conducted in conjunction with AV to examine the efficacy of ketamine as an analgesic, and the incidence of side effects following its administration.

The current analgesics carried by Victorian paramedics are the opioids, morphine and fentanyl. These act by generally depressing the patient and "dulling their senses". Ketamine works differently and induces a state of dissociation that is desirable for the multi-trauma patient with painful injuries. Dissociation is a desirable effect when dealing with patients with multiple fractures or significant burns. In the doses given for analgesia, ketamine does not depress the patient's conscious state and preserves their breathing and airway reflexes. Maintenance of blood pressure is also desirable in the shocked trauma patient, and ketamine does not cause the side effects of hypotension like the opioids.

The general consensus is that ketamine works well, but there are anecdotes about combativeness, and emergence phenomena. The implementation of any treatment needs to be evidence based, and this retrospective cohort study will analyse the efficacy and adverse events associated with the use of ketamine as an analgesic by MICA Flight Paramedics on approximately 350 patients.

This study will examine the evidence and identify the incidence of any adverse events to give Victorian paramedics an evidence base to work from as ketamine is rolled out across the state.
---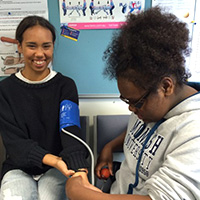 Hands on Monash Indigenous Summer Camp
In December, the Yulendj Indigenous Engagement Unit hosted 40 Indigenous students from across Australia in the annual Hands on Monash Indigenous Summer Camp. The aim of the camp is to provide students from Year 10-12 with an insight into University life, whilst also focusing on team-building, motivation, meeting new people, confidence building and health and wellbeing.
As part of the program, a visit to the Peninsula Campus was on the agenda. Students stopped in at Nursing, Physiotherapy, Education and the Department of Community Emergency Health and Paramedic Practice (DCEHPP). At DCEHPP, the students spent two hours learning how to take vital signs such as blood pressure, heart rate and respiratory rate, and other valuable life skills such as haemorrhage control, limb immobilisation and the application of cervical spine collars.
The visit concluded with 'The Challenge' which aligned nicely with the aims of the camp, where the students participated in a team relay style race and demonstrated their newly learnt skills.
It was obvious on the day that the mentors, paramedic students and staff thoroughly enjoyed the experience. The feedback from the campers was "this year was the best yet!"
DCEHPP looks forward to the hosting another Hands on Monash Indigenous Summer Camp and building on the success of this last camp.
For more information contact jaime.wallis@monash.edu
---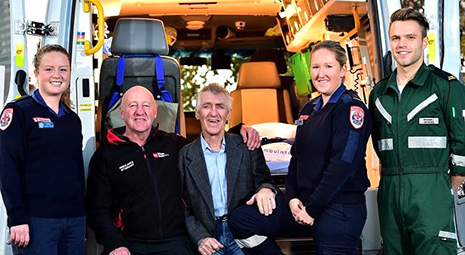 Amelia Boynes, Max King, Eric Bromfield, Emma Windsor and Daniel Allwood.
Paramedics student featured in Herald Sun
With the help of paramedics, a horse trainer has cheated death after suffering a heart attack and all but dying on a racehorse galloping at 60km/h.
Eric Bromfield's heart stopped before he even hit the ground following cardiac arrest, only to then suffer head injuries as he crashed into the turf of Cranbourne track.
It was up to 20 minutes before paramedics were able to restart the 69-year-old's heart, including dangerous minutes with other racehorses thundering past in the dark.
Eric lay in a coma in Frankston hospital for 12 days, suffering three small bleeds in his brain before stunning his family by not only surviving, but waking without brain damage.
"I can't believe I'm here - neither can anybody here at the racecourse. I was lucky," claims Eric.
Last month, Eric was reunited with his saviours, including current third year Paramedics student Daniel Allwood who was out on placement at the time.
---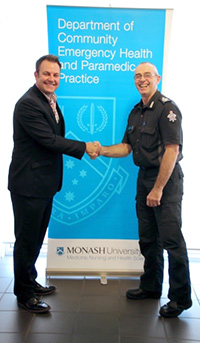 DCEHPP wins MFB contract
The Department of Community Emergency Health and Paramedic Practice was successful in tendering an extended 3 year MFB Emergency Medical Responder contract. This is worth approximately $2 million over the 3 years with an option of extending the contract for another year.