Irritable Bowel Syndrome
Irritable bowel syndrome (IBS) is a common functional gastrointestinal disorder (FGID) affecting one in seven Australian adults and is also common in the USA, Europe and many Asian countries. This condition is characterised by chronic and relapsing symptoms; lower abdominal pain and discomfort, bloating, wind, distension and altered bowel habit (ranging from diarrhoea to constipation) but with no abnormal pathology. The diagnosis of IBS/FGID should be made by a medical practitioner.
Participants sought
Clinical trials for IBS sufferers are currently (July 2013) being recruited for, see detail.
Smartphone Low FODMAP app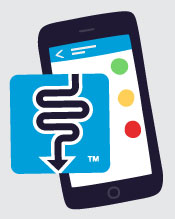 The Monash University Department of Gastroenterology research team has created a smartphone application which provides accurate information about foods that trigger IBS reactions to help sufferers manage their symptoms. See:
Low FODMAP booklet